It's been over a year and a half since Zoom meetings became an integral part of everyone's lives, right after the start of the global pandemic. Just like any other important business tool, the effectiveness of Zoom meetings can be maximized via a few simple features. One of the most central features is the Zoom background.
Today, in the post-COVID work environment, most of us already understand the benefits of the Zoom background. The Zoom interactive background makes us look more professional, especially when we are Zooming from home or from a room that is less than aesthetically pleasing. It also helps remote employees represent their organization in a unified manner. Yet listing all the benefits is not the purpose of this article. Rather, our goal is to provide a practical guide into the possibilities that the Zoom background provides users. Ready? Here we go!
How do you activate the Zoom background?
The Zoom background is immensely popular, but some Zoomers still don't use it. That's why we're kicking things off with simple instructions.
To activate Zoom backgrounds for you own personal use, simply log on to your personal Zoom account on Zoom website, go to Settings and then go to Meetings. Then enable the Virtual Backgrounds option. Once you have done that, you can apply a virtual background for your desktop meetings. All you have to do is log on to Zoom Desktop Client, click Settings from your profile picture, and select Background & Filters. Then click on Virtual Backgrounds, where you will be able to choose from a wide selection of background images. The nearby tab, Video Filters, will allow you to add special filters if you're in a playful mood. If you like, you can even upload images to create your own background for Zoom. Just click on the + located on the right side of your screen, and then select Add Image or Add Video.
If you are using Zoom on your mobile device, you can enjoy great backgrounds for Zoom as well. All you have to do is log on to your Zoom mobile app, and click on More. If you have an iOS device, choose Background & Filters and select your preferred background. If you have an Android device, the process is basically the same, except that instead of Background & Filters, you select the Virtual Backgrounds option.
Thanks to its easy and intuitive interface, you can change your backgrounds on a regular basis. Even creating a brand-new background can take minutes. Just make sure to give your new background a try before your next meeting.
Now that we have mastered how to enable and use Zoom Backgrounds, we can review some of its awesome advanced features. Let's take a close look.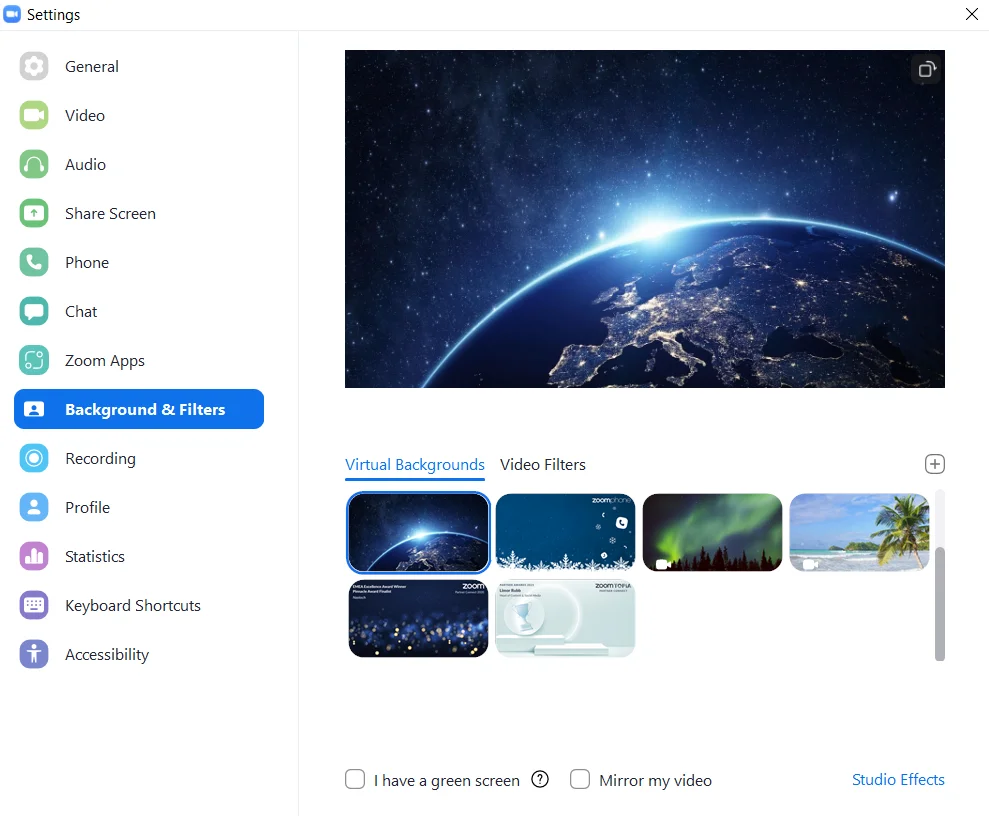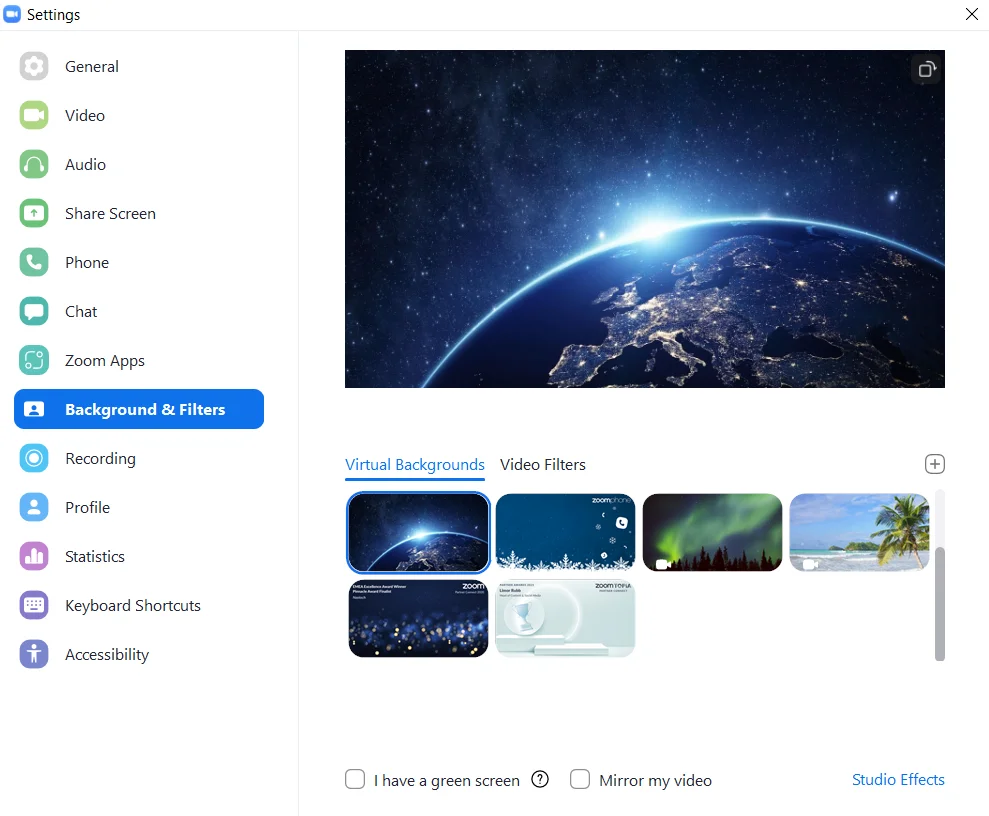 Using a Zoom custom background is a lot of fun. It also makes your online meetings truly memorable. If you're working in creative industries – or just logging on to talk to family or friends – the Virtual Video Background can be a great option. Zoom fully supports video files (MP4 and MOV), so make sure to adjust them to full screen mode (1920*1080). If you want to upload a cool video that will engage other meeting participants, go ahead!
The option has become hugely popular since its launch in early 2021. We can definitely understand why. The Blur Background option allows you to engage in meetings and even host webinars from just about anywhere, without having to worry about the aesthetics of your environment. It's perfect for users who prefer showcasing a natural setting, as opposed to city skylines or beautiful beaches. The blur mode also enhances your personal presence, since you become the only clearly defined image on the screen. In other words: when you blur, you actually go sharp!
To enable Blur Background, simply go to Background & Filters, Select Virtual Backgrounds and then click on the Blur option.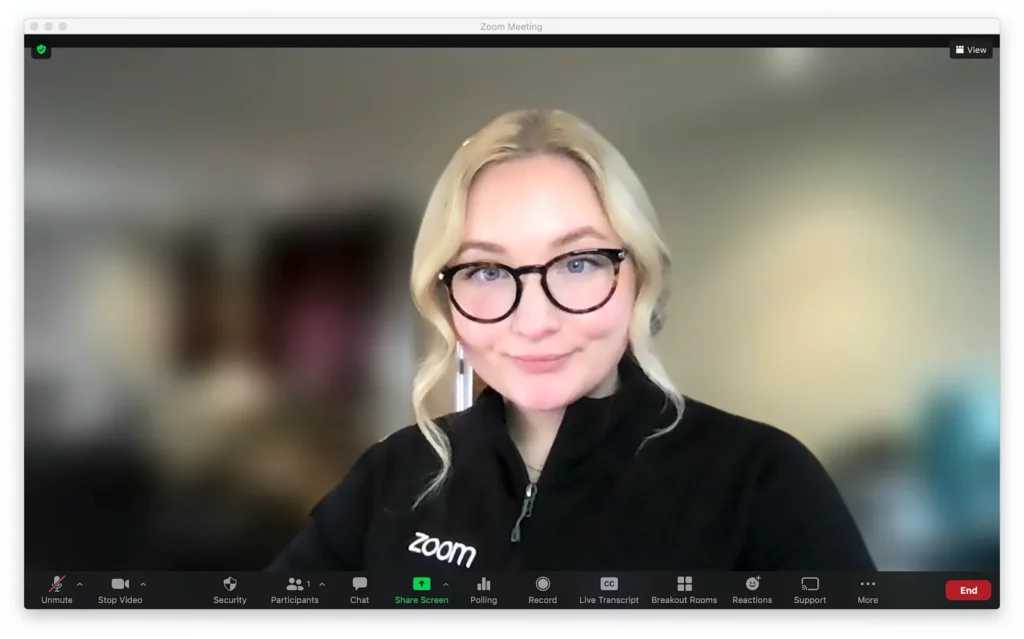 With Immersive View, Zoom is really pushing the threshold. The Immersive View feature allows Zoom meeting and webinar participants to immerse themselves in a single shared background. Immersive View makes everyone feel like they are in the same room together. With Immersive View, the person in control is the host. He or she chooses the virtual scene, and can place participants into the scene either automatically or manually.
Immersive View really upgrades your meetings, and can host up to 25 participants. If you haven't tried Immersive View, we urge you to take it out for a spin. It's great fun! Just look for the View button on the top-right corner of your next Zoom meeting, choose the Immersive View option, and start exploring.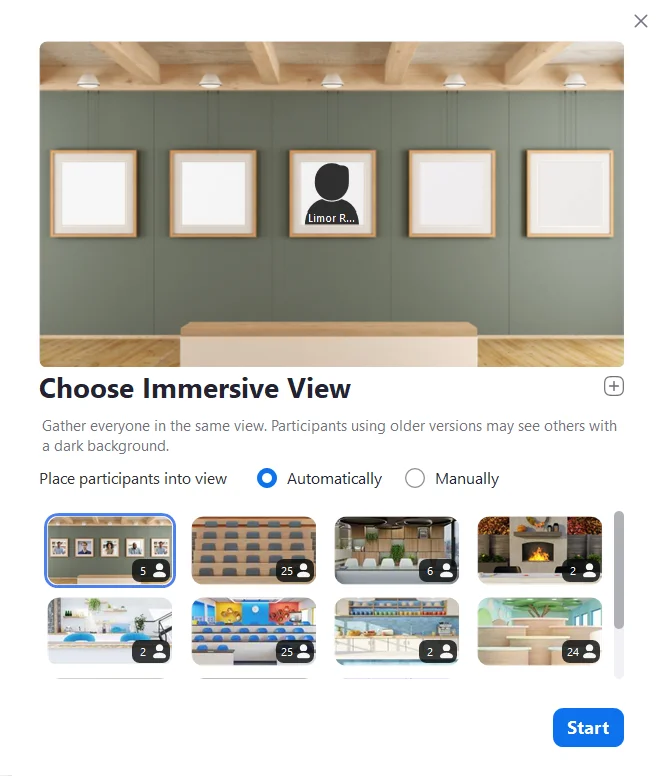 A few weeks ago, Zoom announced the upcoming Zoom Apps-based Shared Backgrounds option. This is a great feature for organizations and teams who work together on projects. Shared Backgrounds allow team members to share and create a backgrounds database that they can use during collective meetings. All sharing actions are performed directly via Zoom Backgrounds, without having to share via Chat or email.
With Shared Backgrounds, users can upload backgrounds for Zoom from their computer to their organization's database. It also allows users to create background collections. In short – stay tuned.
A Background in Excellence
Zoom is known for pioneering virtual backgrounds for virtual meetings, events and webinars. Its backgrounds have become very important to millions all over the world, and Zoom continues to add cool and useful background features on a regular basis.
With Zoom in front and the Naotech team in the background, there's no limit to what you can achieve!