Class
Zoom-Based Next Generation Learning Tool
Join over 10M users from 1,500+ institutions worldwide | Remote learning made easy – a best-in-class, feature-rich platform
Remote learning made easy – a best-in-class, feature-rich platform for online learning.

Top Features – ideal for the Academia, K-12, and Corporate Training Centers
Mobile only text that instructs the users to click the cards.
Introducing Class – Reimagine Virtual Learning
A hybrid or HyFlex learning environment is today's go-to choice for students who want to save time, stay focused and motivated, and develop learning skills. However, it takes more than a camera-on policy to make the most of such classes. Students need to stay engaged and their academic achievements need to be tracked throughout the course. Remote learning requires multiple features that are fully adjusted for that purpose. Zoom provides useful in-app tools for remote and hybrid classes, but they can easily be enhanced for a lifelike experience from everywhere. This is what Class is for.
Today's students demand more from their remote education, and institutions of all kinds (K-12, the Academia, and corporate training centers) need to meet these expectations and provide an uncompromised learning system that works. This system should allow full flexibility, help students stay engaged and motivated, and not sacrifice the quality of instruction. Meet Class, a Zoom-based virtual classroom for a seamless and interactive experience. With Class you can leverage Zoom for a meaningful remote learning experience: deliver secure online assessments at scale, use in-app proctoring for exams and assignments, facilitate group collaboration with advanced Breakout Rooms features, access real-time data from one, easy-to-use dashboard that measures and track participation – all without leaving Zoom.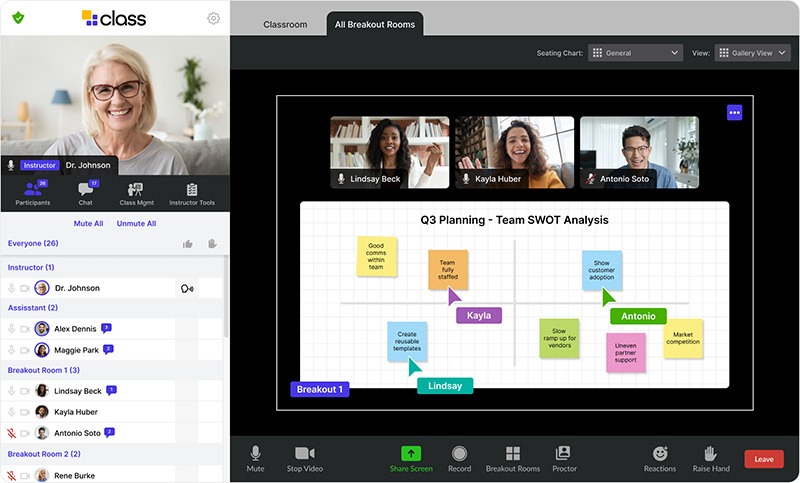 Ideal Learning Tool for Corporates
Class is ideal for corporate instructions and training centers as well. Basic tools for corporate training may not offer a comprehensive, 360-degree learning experience. Class is an ideal enhancement for training centers as it offers simple-to-use, interactive options for all participants such as live content sharing, enhanced Breakout Rooms, personalized support, pre-made templates for a time-saving workflow, detailed session metrics, and much more.
In short, with Class and Naotech's support and service, you'll be able to offer the most advanced, future-proof tools that help students and instructors alike.