If you just so happen to be creating or renovating your new office meeting room, you'll surely agree that top-of-the-line video conferencing equipment is irreplaceable. You certainly won't want to equip your meeting room with unfamiliar, unreliable gear. Sure, the equipment will work in the beginning, but before long, it will cause technical problems that will take up much of your time – and you'll eventually end up making another purchase. Avonic is aware of this, and is doing everything it can to provide a positive, long-term user experience. 
Professionalism, simplicity, comfort and quality are the values that drive Avonic, a Dutch company that specializes in PTZ (Pan-Tilt-Zoom) cameras that can move in all directions and zoom in and out in accordance with specific needs. Avonic strives to provide its clients with a seamless and precise AV experience, which allows them to make the most out of every event, without wasting precious time on technical issues. 
The Best for Your Organization
The cameras manufactured by Avonic provide unprecedented visual quality, high reliability, alongside simple and accessible implementation. Avonic's PTZ cameras are ideal for video conferencing rooms of all sizes, academic classes, webinars and even live events. Relying on Avonic's technological features, your specific needs will always be answered. Naturally, Avonic's engineers are currently working on tomorrow's state-of-the-art features, which everyone will be talking about. 
For Avonic, simplicity is a central value. The company's cameras are Plug & Play solutions, which means that they are easy to install. You no longer have to worry about finding yourselves in a situation where your hardware isn't compatible. You will no longer need an IT professional by your side, every time you want to switch to video mode. These cameras work for you, and not the other way around.  
Avonic's cameras are widely considered as leading solutions by offices that conduct video conferencing meetings or webinars on a regular basis. You can feel the cameras' efficiency every time you begin recording your event, or wish to distribute the recorded data to the relevant participants. 
In the End, Functionality Wins
One of Avonic's major advantages is functionality. In the past, a camera-computer connection, and all video conference equipment for that matter, was a rather clumsy and clunky affair, filled with large and dangerous cables. Naturally, it all affected the functionality and the workflow of the office conference room. Avonic's cameras were made for functionality: they put an end to the multi-cable mess, and enable a frictionless workflow to all meeting attendees.
Another issue confronted by Avonic is room size. The needs of a small office are not the same as a large meeting room for 10-20 participants. In large rooms, there is a large chance for "blind spots" – areas the camera cannot reach. During your video conference, you won't want to leave anyone behind – especially not due to technical difficulties. You want to make everyone feel seen. You want everyone to feel that they are an integral part of the conference.
Avonic's cameras do whatever it takes to avoid blind spots. The company offers cameras for rooms of different sizes, which allow even the most remote participants to be seen by viewers on the other side of the screen. The result is a seamless meeting experience for everyone, with no exceptions.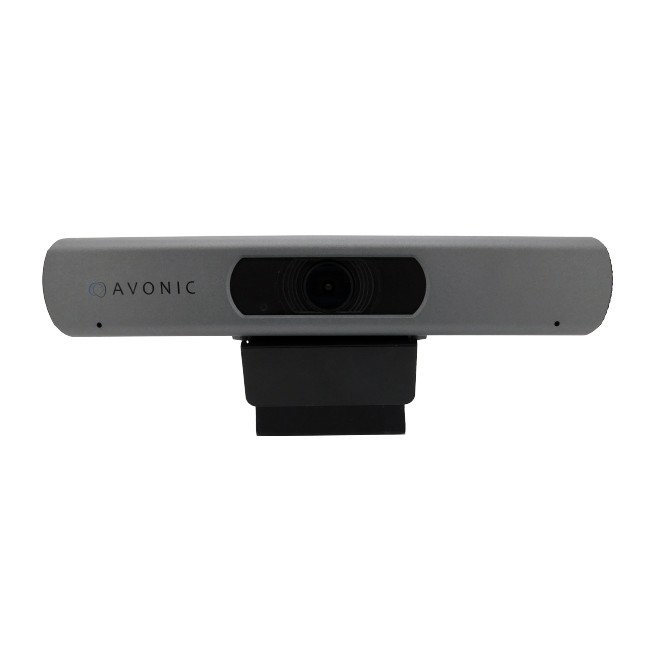 A high-quality K4 camera for small and medium-sized rooms, with a wide 120-degree angle and automatic tracking. Comes with a 3.0 USB connection and built-in two-way microphones.