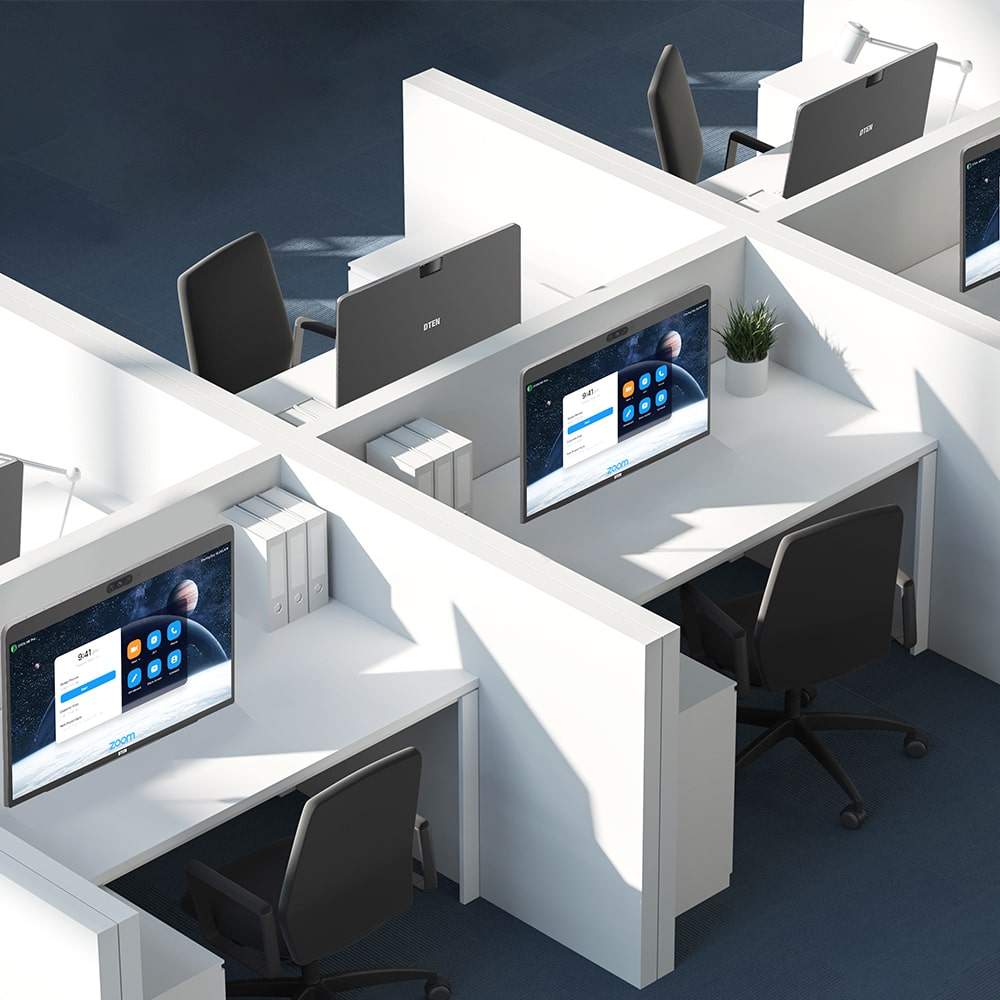 Video Conference Device for Personal Use & Small Meeting Rooms
DTEN ME Pro is the latest edition of DTEN ME. It's an All-in-One, 27″ video conference device, ideal for small huddle rooms, C-level's offices, hot desks, and home use. Within minutes, any office, open space, small meeting room, and even a booth can become a powerful video conference workspace.
The DTEN ME Pro device support Smart Connect. It allows you to bring your own meeting, no matter what video conference software you use. Simply connect the device to your PC or Mac, and start your meeting instantly. The device is set to give you a 360-degree hardware cover. DTEN ME Pro offers a multi-touch screen, 8-element microphone array and speakers, 3 cameras, and more.
The Perfect Accessory for Your Personal Workstation
The modern-day workflow requires multiple video conference meetings, sometimes even on a daily basis. In these cases, a standard PC may not be enough. Organizations need to come up with a time-saving, tech-savvy workflow. A video conference-ready device that offers best-in-class technical capabilities can be a more productive solution. Within minutes, DTEN ME Pro users can start phone calls, share content, share their inputs with a digital whiteboard and annotation, and more. Alternatively, the device offers Zoom kiosk mode features, for a highly technological, Zoom ready office.
All you need to do is log in to your personal Zoom account, or connect to Zoom Rooms, and your personalized video conference device is ready.
Zoom Or Otherwise – The Choice is Yours:
Many organizations rely greatly on Zoom as their go-to video conference platform, and DTEN ME Pro is Zoom ready. The built-in Zoom meeting software allows users to start meetings instantly.
DTEN ME Pro Also adjusts to other organizations' go-to video conference platforms as well. The system enables a seamless and elegant transfer between the different collaboration platforms. DTEN Smart Connect makes this transfer easier than ever: the camera, speakers, touchscreen, and microphone are ready for you, no matter what software you use. Just connect your computer, and you're ready to go.
DTEN ME Pro is a plug & play device. Just take the device out of the box, connect the included HDMI and USB-C cables – and it works! Furthermore, the 6.5 kg device is easy to move around, which allows flexibility and agility.
Also, no IT specialists are required for daily use, which saves time and energy for your entire team.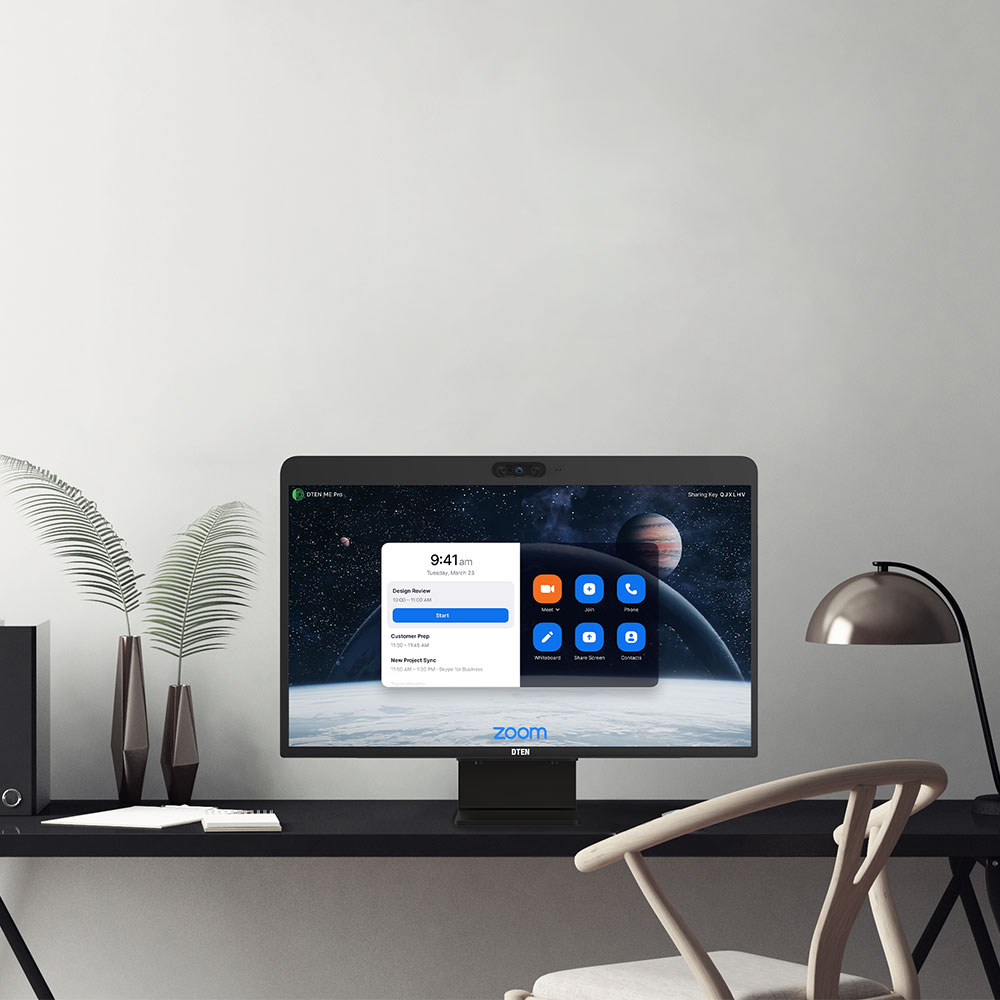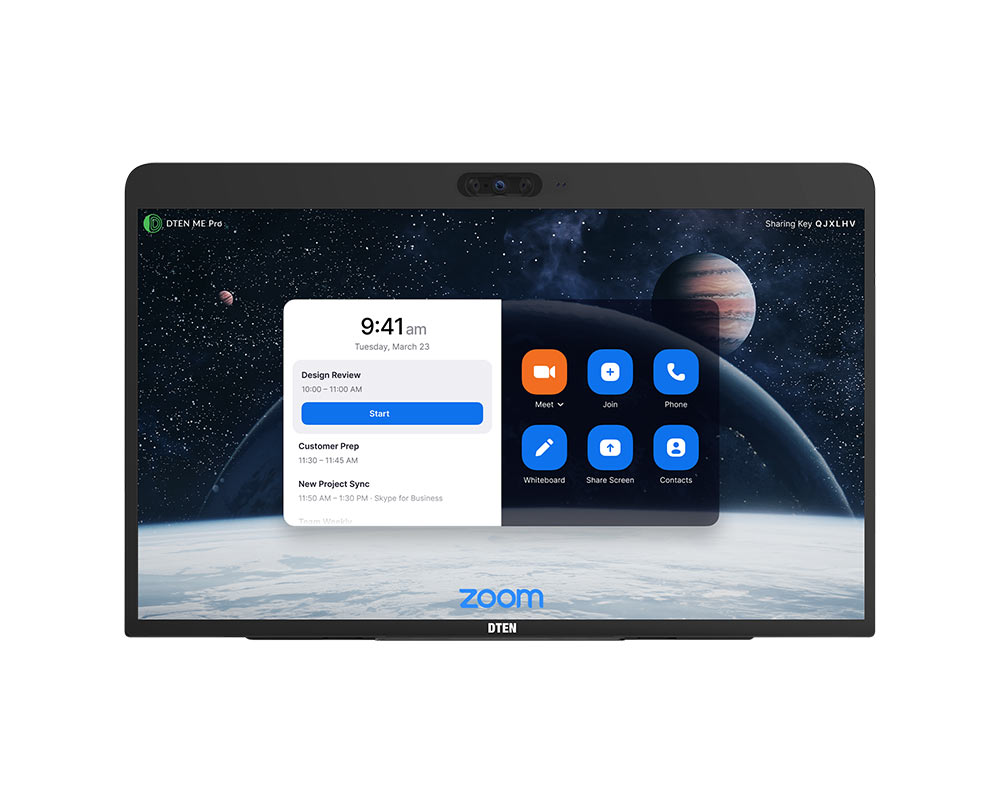 DTEN ME Pro – Features and Capabilities
‣ 27″ full HD multi-touch display: a hyper-responsive screen that was built for effortless presentations.
‣ One device that covers all of your needs: desk phone, touch screen display, whiteboard, microphone and speakers.