Share content simply and professionally with PowerPoint
Zoom's Share Screen option allows sharing content intuitively and effortlessly. Here are two advanced options that can upgrade every presentation:
Using PowerPoint as a Virtual Background
Using this option allows both the presenter and the shared content to be seen on one screen.
When the Zoom meeting starts simply choose the Share Screen option on the toolbar. On the pop-up click on the Advanced tab, and click on the PowerPoint as Virtual Background option. Pick the presentation that you want to show, and change your slides as you go along. You can also drag your image across the screen and place yourself next to a piece of content that you want to emphasize.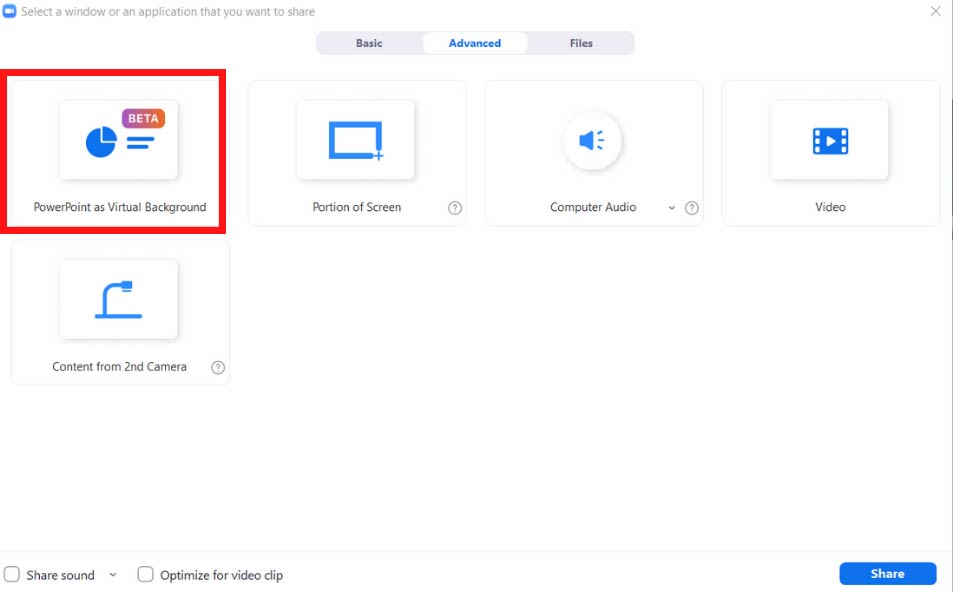 PowerPoint Presentation on Zoom Without Showing Speaker Notes
If you want to keep your speaker notes to yourselves during a presentation, simply follow the instructions:
On PowerPoint, move to Presentation View by pressing F5.
Look for the three dots button on the bottom of your screen.
On the dropdown, choose Show Presenter View.
Press Alt+Tab and navigate to Zoom.
Click Share Screen on Zoom's toolbar.
Click on the Advanced tab.
Choose the Portion of Screen option, and adjust the green frame according to your needs.
Your pre-written notes stay out of participants' view, and you can read them as you present your slides.