As autumn draws near, everyone is starting to feel the curtain begin to drop on 2021. At Naotech, we recently finished celebrating the Jewish Holidays, which were dispersed throughout September. Now we can definitely feel 2022 just around the corner.
Together with Zoom, we accomplished quite a lot. We can't wait to find out what the future has in store. Luckily for us, Zoom held its annual Zoomtopia conference in September, which provided us and other Zoom affiliates around the world with a definitive perspective on 2021. This year, Zoomtopia was powered by Zoom Events, an exciting new platform that was built for large-scale, multi-session events. All in all, over 33,000 participants joined the event live, and the numbers keep on rising, as the sessions are still available online. And while Zoomtopia was held right between the holidays, we just couldn't miss it.
Naotech wins the Zoom EMEA Impact Award at Zoomtopia
At Zoomtopia, Naotech received the Zoom EMEA Impact Rockstar Award, an award that celebrates outstanding marketing campaigns by Zoom resellers. We were incredibly honored to receive this award. In fact, that wasn't our first international recognition: in 2020 we won the EMEA Excellence Award, and we were also the finalists for the international Pinnacle Award. In 2021, our actions truly made an impact. The first thing that stands out is the fact that we hosted 12 Zoom events in 12 months. These activities and more helped us localize the Zoom platform within Israel's diverse and highly innovative market. In addition, in 2021, we continued to improve our highly accessible customer support operations, which are fully aligned with local culture attributes such as attentiveness, cordiality, and eye-level interaction.
Just like Zoom, we truly believe in delivering happiness to our clients. We go above and beyond to provide the best Zoom experience and the best support, and luckily it shows. We'd like to thank Zoom for our partnership and for believing in us. We can't take it for granted.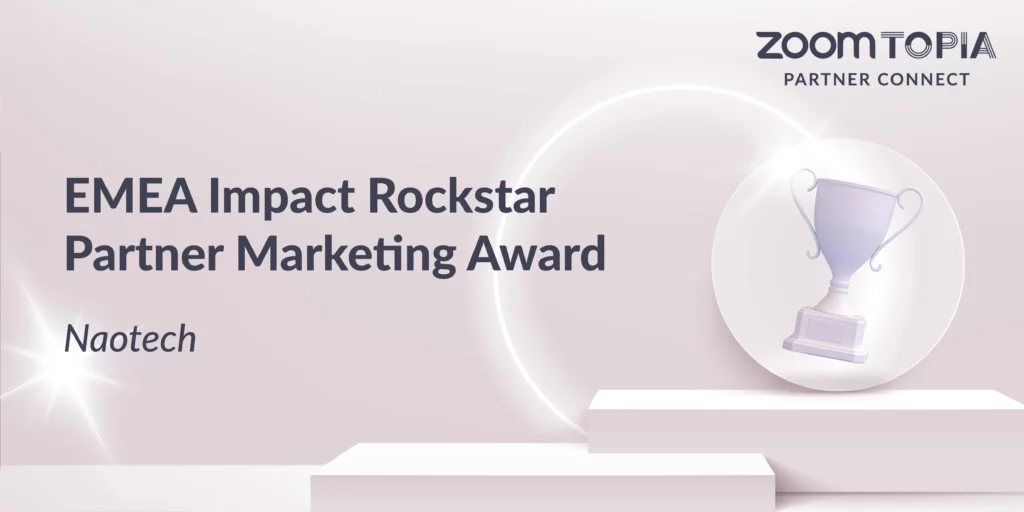 Zoom Features on the Horizon
At Zoomtopia, Zoom unveiled a slew of new & exciting features for its platform, which will become available in the coming months. These include new features for the highly successful Zoom Phone product, including the Zoom Phone end-to-end encryption, and video voicemail. Zoom Phone has 2 million worldwide licenses and can be accessed in 47 countries (and counting), so every new feature creates an immediate and powerful impact.
The new features also include improvements for hybrid teams that rely on Zoom for effective interaction. For example, the AI-based Zoom Rooms Smart Gallery that creates an individual video feed of each meeting participant in the room. Zoom also presented new possibilities for Hot Desking that will allow employees to select and book desks and workspaces based on an interactive map. Further down the road, Zoom is also set to deliver personalized, AI-based seating recommendations. 
But that's not all. Zoom also continues to focus on enhancing the meeting experience. New and upcoming meeting experience features will include expanded translation and transcription for 30 languages and 12 live translated languages. Impressive, right? There's more! Zoom is also planning to unleash the Zoom Widget, which will allow users to access their meeting schedule and chats at a quick glance.
Zoom announced Video Engagement Center, a new way to connect businesses and clients. Thanks to the new feature, due in early 2022, organizations can customize different video-based templates and offer clients instant interaction.
As for messaging, Zoom has kept itself busy with innovation. Zoom is upgrading its Zoom Chat and adding cutting-edge continuous collaboration and huddle view features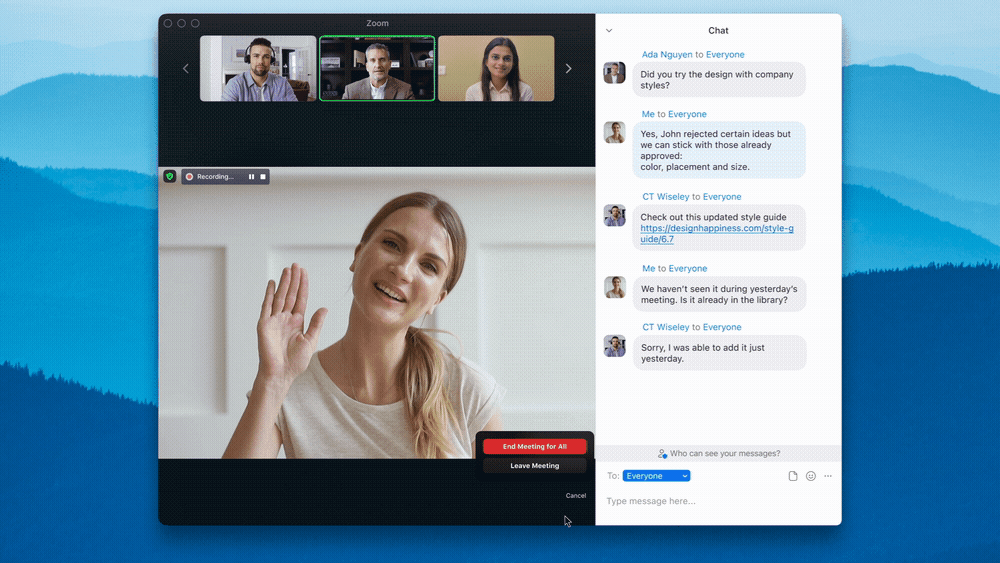 Zoom Security Goes Further
It is well known fact that Zoom invests vast resources in security. Already a super-secure platform, Zoom is planning to add a wide variety of security features.
For starters, Zoom is expanding its end-to-end encryption to the Zoom Phone. In addition, Zoom will unveil a feature named Bring Your Own Key (or BYOK for short). This way, users can create and manage their own security framework within AWS by using a key that even Zoom cannot access. It's perfect for storing large files, for example.
To top things off, Zoom is creating a Verified Identity feature that will offer users with added protection from phishing incidents. This feature will include a multi-level authentication process.
What Does the Future Hold?
As our world continues to transition, it is clear that 2022 will offer Naotech and Zoom with more opportunities to help businesses and users communicate more effectively and securely.
Focusing on the Israeli market, we look forward to sharing Zoom's exciting new features and products with leading organizations that are impacting the global landscape. By the way, these products aren't necessarily limited to software. For example, DTEN has developed a video conference system specifically for Zoom called DTEN GO & Mate, whose cutting-edge capabilities offers great value for money.
Here's to a future filled with possibilities!