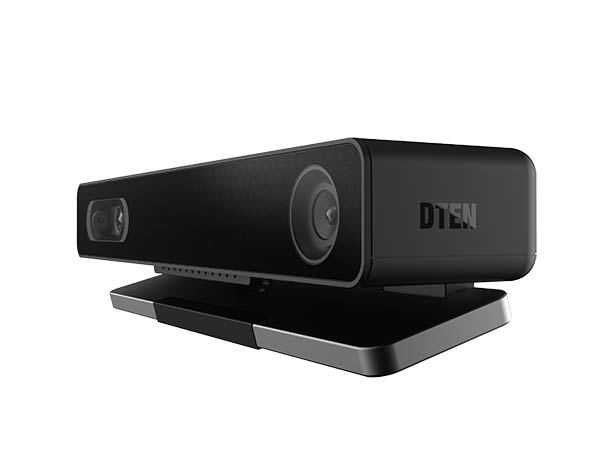 The System That Fits Your Needs Perfectly
DTEN Go with Mate is a video conference system that is especially designed for conference rooms that already have a screen, or ones that don't depend on a screen. Either way, the system fits the components that you already have, and allows every room and every space to become a powerful, technological conference room immediately. Following a quick installation and deployment, the system is all set for a productive and efficient video conference meeting. As usual at DTEN, every component has been carefully chosen, based on the most advanced technology – which allows users to enjoy a powerful and comfortable experience, and most importantly, a productive workflow.
Other than the familiar option of hand-picking the different components one by one or relying on existing equipment, today there's an alternative, widely preferred option: choosing an All-in-One solution that fills all these needs at once. In one technologically advanced, highly aesthetic product you can find all the abilities that will turn your conference room into an ideal, powerful video conference room.
If you're interested in keeping up with the new business standard of frequent video conference meetings from your conference room, the All-in-One solution is your answer. Simply and efficiently every organization – big and small alike – can enjoy seamless hybrid meetings from any conference room.
The Right System at the Right Time
DTEN Go with Mate offers a unique video conference experience, and high-quality video and audio performance. Thanks to DTEN Go with Mate, all meeting participants feel like they're in the same room and nobody feels left out.
You'll be able to use the system immediately following a quick installation, no need to worry about a prolonged deployment process. Similarly to other DTEN systems, DTEN Go with Mate is the result of a fruitful collaboration with Zoom and comes with Zoom software pre-installed.
One of the key advantages of DTEN Go with Mate is its intuitive, friendly, and easy-to-operate system. Every end-user can easily use it, without relying on the availability of the IT team.
The Advantages of DTEN GO:
◄ A native Zoom integration that allows users to enjoy all the benefits of the popular video conference platform.
◄ A fast and simple installation. No need to worry about prolonged conference room downtime.
◄ An array of 4 cameras produces a high-quality, sharp image.
◄ The camera offers advanced PTZ functionality that finds the perfect angle and captures everyone in the room.
◄ An array of 12 microphones guarantees that every word is heard clearly.
◄ The unit can be placed on top of a TV or a screen.
◄ 10 meters (32 feet) video and audio coverage. The conference room attendees don't need to gather around the device, and if they want, they're free to roam around the room and still they'll be seen properly.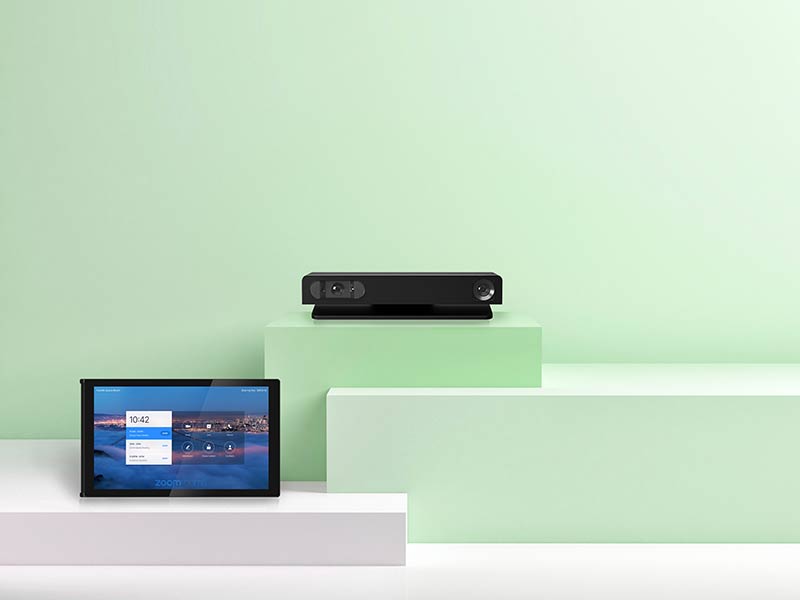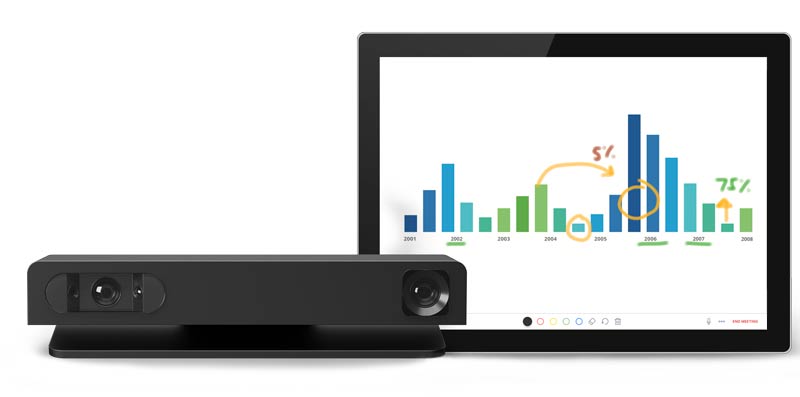 The advantages of DTEN Mate, DTEN GO's complementary tablet:
◄ 10.1" LED screen display, that also includes multi-touch functionality.
◄ Lightweight: the entire system weighs only 450 grams (1 pound).
◄ Content sharing during meetings, with the ability to annotate freely on the touch screen.
◄ The unit can be placed on a table or on a mount.
◄ The unit includes an integrated speaker.