The Perfect, Award-Winning Home Office
Who said that the only way to enjoy a smooth, professional video conference experience is at your office's conference room? DTEN ME is an All-in-One device that was made for efficient, simple, and comfortable video conference meetings, especially designed for offices of CEOs and executives.
Just like DTEN D7, its counterpart that was made for video conference rooms, DTEN ME offers a comprehensive video conference solution that also fits your desk perfectly and doesn't require much space. DTEN ME allows you to create a practical, simple, space-saving workspace that will increase your productivity levels at your personal desk. 
DTEN ME won the Red Dot Award: Product Design 2021, for its ingenuity, uncompromised aesthetics, and inspiring design.
The Ultimate All-in-One Experience, Especially for You
If you join remote colleagues for a meeting from your personal office or from your home office, you can't afford to waste time on technical difficulties. Also, you can't rely on IT specialists to be able to assist you whenever you want to go on a video meeting. You want a video conference system that allows for a friendly, seamless workflow.
Gone are the days when you had to purchase and install every component separately and hope for the best. DTEN ME presents the ideal kit for personal use.
Basically, everyone who regularly uses video conferencing as a work tool and wants to host or join remote meetings at the comfort of their private office (either at work or at home). DTEN ME allows for a personalized experience, so all you need to do is sign in to your Zoom personal account and… that's it. You're ready to go. Your schedule, your meeting settings and even your Zoom Phone will all be accessible from one single device.
As a plug-and-play solution, DTEN ME is ideal for your private office, and promises a fast and simple workflow that enables any end-user to work easily and efficiently, without relying on IT support.
Following a quick deployment, your video conference device is at your service. You're welcome to connect DTEN ME to your PC via HDMI and use it as an extra monitor. You can also control the device from Zoom's web interface. If you have any other questions along the way, Naotech Team will be happy to help.
The Way to the Perfect Video Conference Meeting Starts Here
DTEN ME is designed to perfection and fits your private office ideally. It can be moved around easily, and it fits all offices, of all sizes, thanks to its weight (6.5 kg, or 14.33lb), and thanks to its thin screen (1.5 cm thick, or 0.5").
You no longer have to purchase a camera and desk phone speakers separately; these also take up quite a lot of space. Say goodbye to cords and cables and move on to a more aesthetic, professional, and efficient solution that is already within your reach.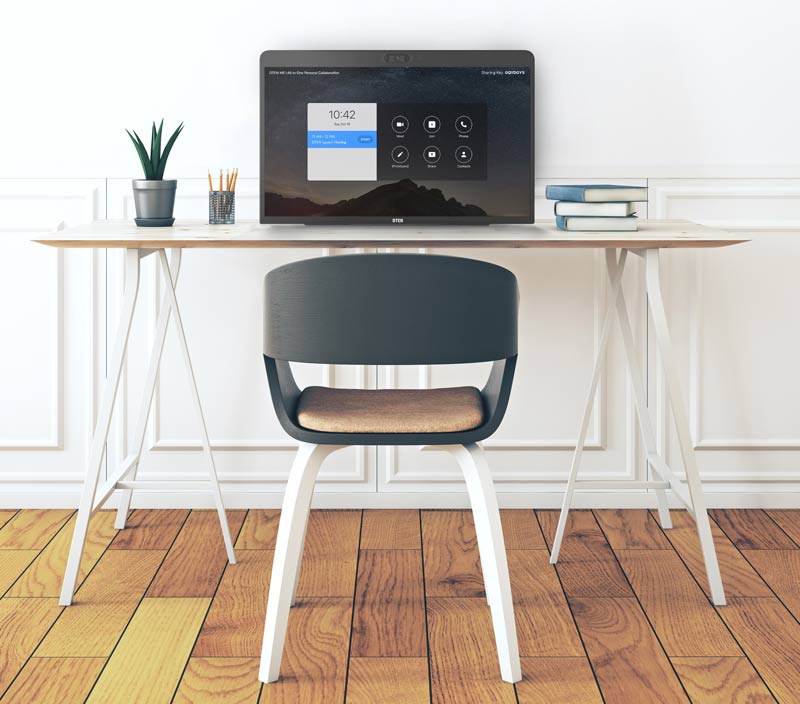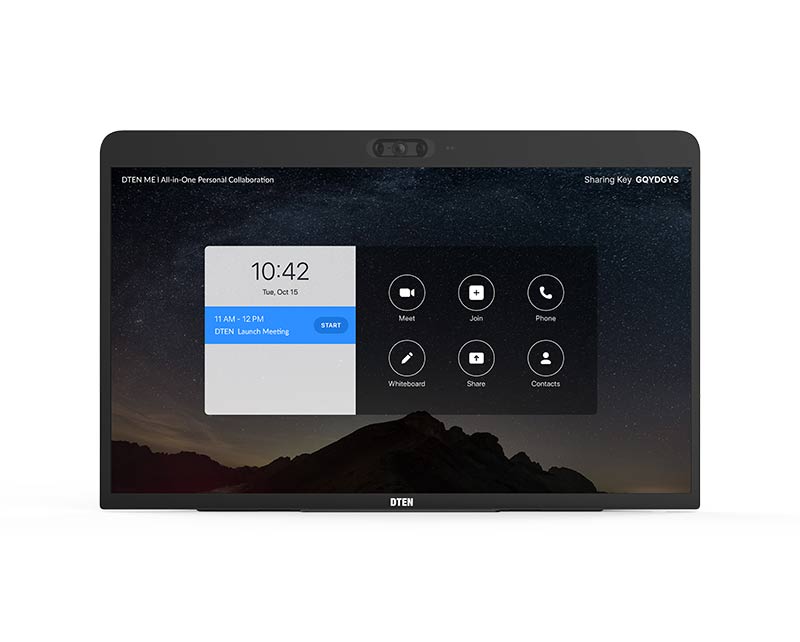 The DTEN ME system includes:
◄ A pre-installed Zoom software, a best-of-breed video conference platform. If you use Zoom Rooms, you can choose either a Zoom Rooms meeting or an app-based Zoom meeting.
◄ HD multi-touch 27" screen, that provides a winning video conference quality and allows users to touch, annotate, and even enjoy a real-time autocorrect for manually drawn shapes.
◄ An array of 3 cameras that creates a 160-degree horizontal field of view.
◄ An array of 8 microphones with a proprietary DSP processing for a crystal-clear sound experience.
◄ Integrated stereo speakers.
◄ Machine learning-based DTEN Audio AI technology that blocks unwanted background noises and allows you to focus on your meeting without being distracted.